Creating Green Infrastructure - for sustainable farms and creating habitat for vulnerable species
Creating Green Infrastructure - for sustainable farms and creating habitat for vulnerable species
Farm woodlands protect crops and livestock, provide sustainable timber and create vital habitat for a range of native species.  These new woodlands will create essential roosting and nesting for key birds of prey which had been driven to local extinction in the past. 

---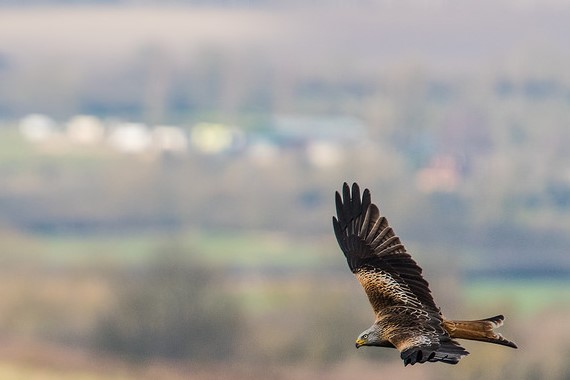 Project Summary
Why is this project important
With native woodland circa at 1% of the surface area of Ireland, it has become vitally important not only to create new native woodlands for the future.
The current project covers farmland in Counties Antrim, Derry and Donegal and will add vital woodland to the environment which will have multiple benefits for farming communities.  This will include shelter for crops and livestock, future sustainable timber for farmland economy and habitat for wide range of native insects, mammals and birds. With expected spread of reintroduced birds of prey such as Red Kite into the region in the next 10 to 20 years, there will be a need for small woodlands to provide essential nesting habitat and roosting sites.  This maturing habitat will allow The Red Kite and other vulnerable raptors to occupy their former range.
Growing trees and woodlands will sequester large amounts of Co2. 
Aims and Actions
Our aim is to plant 15,000 predominantly native trees across parts of the province of Ulster in 2017/18 and increase this to 30,000 in 2018. We would eventually like to get this project to 100 hectares per year for the next 5 years.  Small woodlands dotted across farmland areas, as well as large new woodlands will create a dynamic landscape with multiple benefits for wildlife and communities. 
Global Aims:
To increase carbon sequestration for climate change protection
To increase percentage of predominantly native woodland in Ireland
Specific Aims:
To create woodland diversity to create important habitat for a wide range of animals especially Red Kite and other raptors. To increase the number of native trees in an already woodland impoverished landscape.
To support and educate local landowners and small holders as to the value to trees and woodland as part of productive farmland economy
Actions
Educate and support community and small landowners about the value of predominantly native woodland within their lands while supporting them in planting schemes
Planting will be at a rate of up t0 3000 whips (trees of 50 to 80cms) per hectare, with species being selected based on local conditions
Opportunities to explore public access to some new woodlands will increase  opportunities for people to engage with nature which has health and well-being benefits in a country that has little off-road access to green spaces space in the rural environment.
Location
Various small farms in counties, Antrim, Derry and Donegal
Species of Tree
Main species: Sessile Oak (Quercus petraea), Pedunculate Oak (Quercus robur), Scots Pine (Pinus sylvestris), Silver Birch (Betula Pendula), Hairy Birch (Betula pubescens), Alder (Alnus glutinosa) and Beech (Fagus sylvatica)
Project Partners
The Golden Eagle Trust
Estimated Total Carbon Sequestered*
238,300 *
Key Species Protected
By engaging with farmers and landowners, on small to medium sized farms, we will provide valuable information on how green infrastructure, in the form of trees and hedges, can aid their business and importantly help towards sustainability.
Wildlife will benefit at many levels:  Copses of trees provide essential habitat for a wide range of native birds and small mammals, which begin to increase rapidly, even after only a few seasons after trees have been planted.  Top predators, such as birds of prey, carry out important functions in balanced and healthy ecosystems.  Many of Ireland's birds of prey were driven to extinction by historical deforestation and direct persecution.  Recent reintroductions of a once locally extinct raptor species, Red Kite (Milvus milvus) and the gradual return of the Buzzard (Buteo buteo) from near extinction are encouraging.  However, one of limiting factors for these species is the lack of small woodlands across farmland which are essential for roosting and nesting sites..  Woodland in farmland also creates micro-habitats and refuges for native insects and this stop the sharp decline in Ireland's pollinators such as native bumblebees.
* Methodology for carbon sequestered : This estimate is based on an approached  based on The Forestry Commission UK.  It does not include the amount of carbon sequestered in temperate forest soils and is likely to be a conservative figure.  For more information go to:https://www.forestry.gov.uk/forestry/infd-8jue9t
---
---
Get Involved & Support Our Cause
NuaTree will plant predominantly native Irish trees. We will do this in order to create multiple benefits across the island by putting the right trees species in the right place in-order to maximise a wide range of benefits.